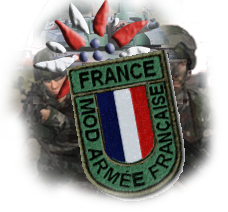 Whilst I announced a few weeks ago that following a disagreement within the MAF Studio, which led two of its members, Famas80 and myself, to make a new version of the mod MAF2Ext under the name MAFxExt with their signatures and that should be, as a result of this internal conflict, closed the studio, the team finally managed to meet again with the support of FeudeDaisy, leader of the studio.
We are so proud to present the mod MAFCExt, the MAF2Ext's new name.
Why this new change ?
As you know the MAF2Ext aimed to complete the Hexagon mod when it was released. OFrP 3.1 is the update and after the mod Hexagon, we had to act in order to provide an update MAF2Ext both players having only ArmA2, only players who have OA.
Thus the MAFCExt simply has nothing to do with MAF2Ext.
It will contain, upon its release, an update of previous units of the mod, a key server for clans, new units, vehicles and aircraft, but also civilian units that were originally planned in the MCF, mod, hence the name change to Mod Armée Française et Civil Extension 2.0 (this is longer than Operation Frenchpoint …)
This mod will make two "sub-mod"!
- the mod MAFCExt2 for those who have only the base game and would like to take MAF2ext update, new units as well as some updates that occurred between the passage of Hexagon to OFrP and therefore not available for those with only A2. This mod will complete as before Hexagon v2.1 mod.
- The mod MAFCExtOA for those who have ArmA 2: OA is identical to the A2 above but without the updates appearing between the passage of Hexagon to OFrP. This mod will therefore complement the mod now OFrP3.1.
Following all these changes, we inform you that the studio MAF will be transformed. So we go on ArmA 2 and completely abandon any projects scheduled on ArmA:Armed Assault … we apologize also to everyone who was waiting on the MAF mod ArmA 1. It only remains now that the mod BeAM and the mod Arzuela, fictitious army in Latin America … and of course the extension of the French army, now, the mod MAFCExt !
We will also conduct a change of address of our site/forum.
We look forward to seeing you later this month for new information
WORK IN PROGRESS !!!